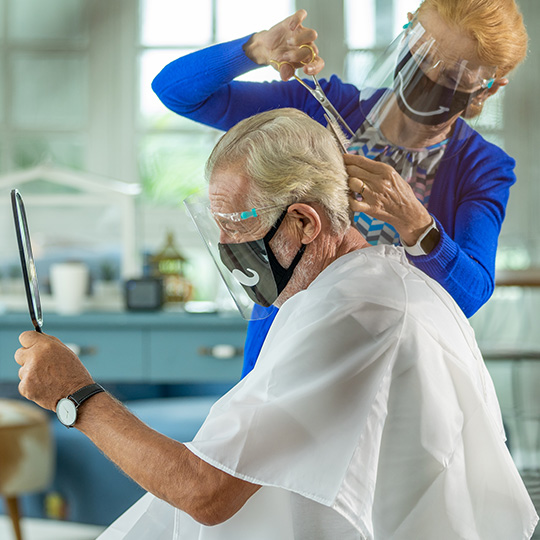 We're Here to Provide for You & Your Loved One
At Cardinal View Senior Living, we are driven to provide the absolute best living experience for you or your loved one. From our customizable lifestyles to our professionally designed apartments, everything we do is focused on meeting your needs.
Our selection of services is no exception. We design each program to address different aspects of your wellness, whether physical, mental, or spiritual. Our team takes responsibility for your comfort and spends time getting to know you and what you want from your life.
Start living your life in care and comfort. Please contact us today to schedule a tour!
Fresh Air & Antiviral Procedures
Here at Cardinal View Senior Living, we are prioritizing efforts to ensure our community has clean air and appropriate antiviral procedures and preventions. We are implementing these in all of our common areas and we extend the option for residents to have them installed in their individual apartments.
Our Community Services
Inspire Wellness For Life
Inspire Wellness for Life is our customized wellness program for every single resident at Cardinal View Senior Living. This program focuses on 7 different dimensions of wellness to enrich and enhance your life in numerous ways.
These dimensions include:
Physical: Living an active and healthy lifestyle
Spiritual: Finding purpose and meaning
Social: Creating a sense of community and belonging
Emotional: Accepting everyone's thoughts and feelings
Intellectual: Finding the outlets that ignite your creative flame
Vocational: Expressing yourself through talents and passion
Environmental: Respecting and caring for our surroundings
It can be difficult to know which medications to take and when. Our team takes the stress out of managing your health by offering a program where we keep track of your medications and the times you take them.
We can also note how your medication is affecting your health and suggest changes to your doctor. If we notice that your needs are evolving or your medication is no longer effective, we can easily find you the help you deserve.
Enriching Connections Certification
Enriching Connections is a comprehensive training program we provide for each of our Memory Care staff members. This training helps them develop meaningful and lasting connections with your loved one so they feel safe and secure in our community. We do this by focusing on several different values during training:
Relationships & Community: We invite every individual to belong.
Commitment: We are dedicated to providing personalized care plans.
Certification & Training: All management and Memory Care staff are certified by the Alzheimer's Association. Our team is also thoroughly trained in dementia care.
Services: Our nursing staff helps families choose the right services for their loved ones.
Meaningful Life & Engagement: We use our Inspire Wellness for Life program to promote the best quality of life for every resident.
Environment: We make continuous improvements to our building and programs so that our community remains safe and comfortable for residents with dementia.
Accountability: We are always monitoring our processes, plans, and culture to maintain high standards of care.
Respite & Recovery is the perfect option for those seeking short, 7 to 60 day stays in our community. This program is particularly useful if you are recovering from surgery, need to give your regular caregiver a break, or want to try out our community before moving in full-time.
During your stay, you will have access to our full range of services and amenities, including:
3 chef-prepared meals a day
All utilities, except phone
An emergency response team
Housekeeping
A furnished apartment
Group activities
24-hour onsite staff
Continuous wellness checks
Medication administration
Whirlpool spa
Nurse supervision
Regularly Visiting Physicians
We want to make sure you are getting the best care possible. We schedule regular physician visits to protect and preserve your health while living in our community.
Residents who have suffered illnesses or injuries may have lost essential motor functions that allow them to move around and communicate. We work with Fox Therapy to help empower our residents through a range of therapies.
Physical therapy helps our residents regain strength lost due to an injury or illness. Our team focuses on helping them heal and retrain their bodies while always working at a comfortable pace.
Occupational therapy focuses on helping residents regain their independence. We create accessible ways to approach daily activities when they begin to become challenging. By finding effective alternatives, we help our residents avoid falls and injuries so they can do more for themselves.
Speech therapy helps residents who have had a stroke, injury, or illness that has made communicating difficult and frustrating. Our speech therapists help our residents find their voices through vocal exercises that train them to use the right muscles to formulate sounds naturally. We can also help alleviate issues related to swallowing through speech therapy.
Why Choose Cardinal View Senior Living?
(From University Ave in Middleton) Turn on to Parmenter St, head north, continue north past Airport Rd/Century Ave, head up the hill and we will be located on left.
Email Us:
Executive Director:
Julie Holden
[email protected]
Marketing Director:
Taylor Powless
[email protected]
Address
3820 Tribeca Drive
Middleton
,
WI
53562