As the time comes when you decide to transition to a senior living community, you'll be researching to find the best quality care. It's a new home, but it can be so much more.
Cardinal View Senior Living offers various choices to suit your lifestyle and required level of care. Differentiating between the types of senior living options can help you decide what you'll value in your golden years. Once you've narrowed down the type of community that suits you, considering the benefits, amenities and services, and planning for the future can help you figure out what to look for in a senior living community.
What Is a Senior Living Community?
Senior living communities are designed for older adults to provide support, simplify their lifestyle, find companionship in other older adults, and be a safe place to spend their post-retirement years.
Some senior living communities offer housekeeping services, activities and events, transportation services, access to medical services, and other supportive services.
The primary types of senior living lifestyle options include independent living, assisted living, and memory care, and each have distinct features.
Independent Living
Simply put, independent living is housing designed for older adults with convenient access to services, activities, and amenities. Many Cardinal View Senior Living residents want more time to spend on things they enjoy without worrying about tedious tasks or home maintenance.
For those who are capable of living alone but want to consolidate their lifestyle, make new friends, and have convenient services like a fitness center and library, independent living may be the next step.
Independent living may be right for you if you:
Want help with chores and household tasks
Want a safe and secure place to live
Want to socialize with people in the same stage of life
Currently live independently but want a more community-focused setting
Assisted Living
When you need more help in daily life, assisted living can preserve your independence while offering support where you need it. Cardinal View Senior Living customizes a care plan based on your specific needs.
We offer 24-hour support, access to medical services, medication management, and more for you to take advantage of as you need it. Our highly trained and dedicated staff is available to help with dressing, bathing, eating, housekeeping, and more.
We elevate your quality of life by taking a holistic approach to your care. We nurture the 7 dimensions of wellness: physical, emotional, spiritual, intellectual, environmental, occupational, and social, through activities, events, and services to help meet all your needs so you can thrive.
You may want to consider assisted living if:
Living independently is too dangerous
Routine chores are becoming difficult
You're struggling to maintain your hygiene
Your health needs monitoring
You feel lonely and isolated
Memory Care
Memory care is exclusively designed for older adults with cognitive problems, dementia, or Alzheimer's. It includes some of the same services offered in assisted living, modified for memory care residents.
Living alone after a dementia diagnosis can be scary for families and dangerous for older adults. A memory care approach is completely personalized for your loved one's cognitive function, rate of decline, and physical abilities.
Cardinal View Senior Living offers therapies, activities, routines, and services to accommodate their challenges and promotes fulfillment in a supportive, secure environment.
Memory care may be suitable for your loved one if:
They have memory issues or are diagnosed with a cognitive condition
Living alone is dangerous for them
They find living alone stressful
They have a history of getting lost and confused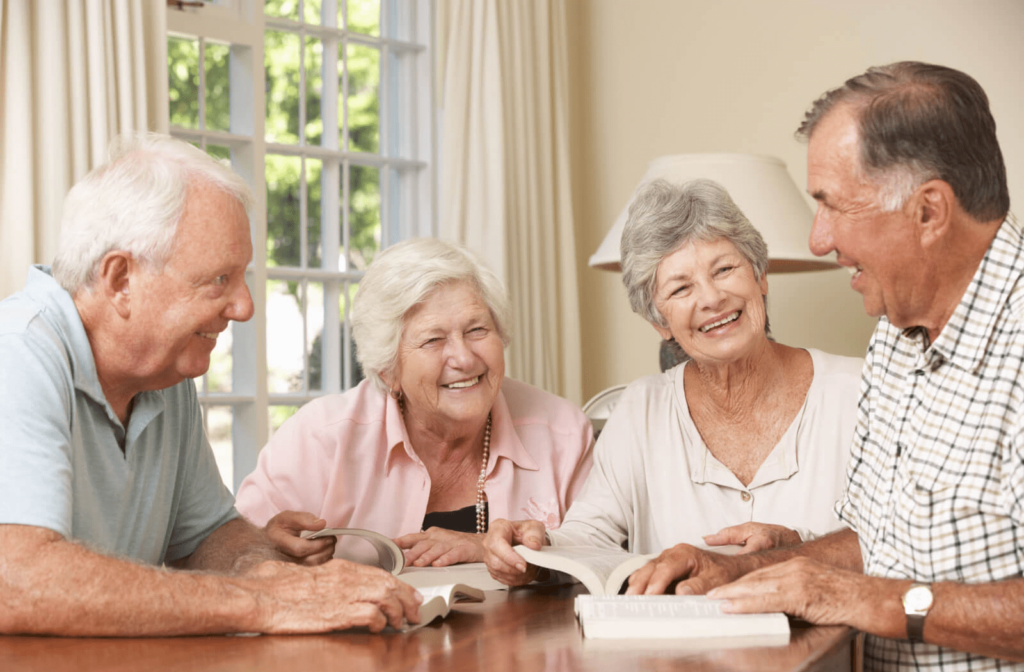 What to Look For
Once you know what level of care is most appropriate for you or your loved one, you can consider other vital factors that will offer you the most incredible quality of life.
Benefits of the Community
Choosing a community can be a big decision. When you bought your first home, you researched the neighborhood, schools, and hospitals and located your nearest walking path. You were looking for an atmosphere, culture, and neighbors that resonated with you.
A senior living community is shaped largely by the people who live there. Schedule a few visits to get a better sense of what the people are like, what's on the social calendar, and if you have a good feeling about the people as your future neighbors.
Preferences for Amenities & Services
At Cardinal View Senior Living, we offer an array of amenities for residents to enjoy. Not everyone is the same. You and your neighbors may have different service needs, different tastes in activities, and more.
You may love to spend your afternoons in the library, stop by the fitness facility, and go to the on-site salon. Or, you may prefer the arts and crafts room, the courtyard, or the pub lounge.
When you visit the community, take note of what amenities there are. You may discover something new to enjoy.
Future Planning
Over time, your care needs may change. If you start in independent living and develop a need for assisted living, it's best to know early if the option is available. Cardinal View Senior Living can adapt your care plan as your circumstances change.
If they choose, we can take residents until the end of life, meaning you or your loved one will get consistent support and assistance from a community they know and trust.
Visit Cardinal View Senior Living
Every senior's needs are different. Whether you want to sell your home and move to a low-maintenance apartment or you're in cognitive decline needing memory care, our compassionate and specially trained staff can craft a personalized plan for you.
Visit Cardinal View Senior Living to learn about our holistic approach to senior living care for every older adult.